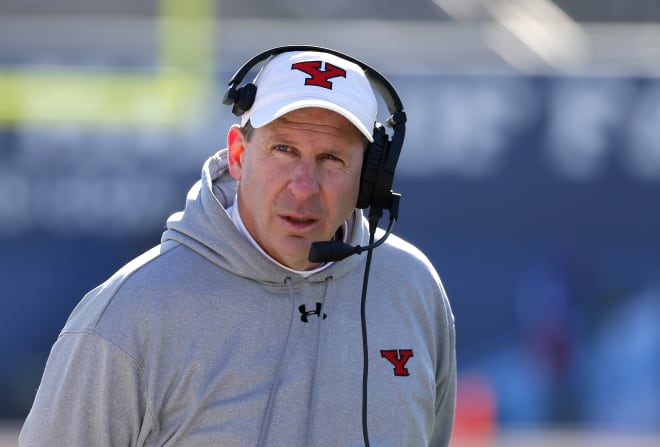 The college football season faces dramatic uncertainties heading into the fall because of the coronavirus pandemic. But there were plenty of offseason coordinator hires on both offense and defense and across the Power Five conferences that will have an impact once the sport gets going again. Here our 10 that especially stood out to us:
FACT OR FICTION: Jim Harbaugh should keep quiet about Ohio State
CLASS OF 2021 RANKINGS: Rivals250 | Position | Team | State
CLASS OF 2022: Top 100
MORE: Rivals Transfer Tracker | Rivals Camp Series
1. KERRY COOMBS, OHIO
STATE DEFENSIVE COORDINATOR

Overview: Ohio State lost DE Chase Young and DB Jeffrey Okudah along with DB Damon Arnette and DL Davon Hamilton, but the Buckeyes are still loaded across the board even if some players are unproven. Bringing Coombs back to Ohio State from the Tennessee Titans should be the perfect solution since he has excelled at every job he's ever had and he's directed some of the best defenses in college football.
This could be another one, led by cornerback Shaun Wade, as Ohio State looks to return to the College Football Playoff. Also, Coombs' short stint in the NFL will not hurt from a recruiting perspective.
Farrell's take: Coombs was our national recruiter of the year in 2017, so he can recruit players and obviously coach them up. Jeff Hafley was great, but getting Coombs back at Ohio State makes it stronger than ever and he's one of the best coaches regardless of position in college football.
SHARE YOUR THOUGHTS WITH OHIO STATE FANS AT BUCKEYEGROVE.COM
2. TODD MONKEN, GEORGIA
OFFENSIVE COORDINATOR

Overview: Georgia has talent all over the field for Monken to work with, but much of it is unproven and a unique offense where cohesion and familiarity were important was not possible to occur during a pandemic.
Georgia's new offensive coordinator has some interesting questions to answer in the coming weeks like will Wake Forest transfer Jamie Newman or USC transfer JT Daniels, a former five-star who recently became eligible, be the starting quarterback? Which receivers will step up among a group that was lackluster at best last season after phenom George Pickens? Will an offensive line with some youth and inexperience but also incredible talent come together?
Monken spent the last few seasons bouncing around the NFL – and that won't hurt recruiting – and if the Bulldogs can utilize their tight ends, that could be a big bonus, too.
Farrell's take: Monken has plenty of experience and can't be worse than his predecessor James Coley, who really struggled last season especially in boosting the passing game. Monken likes to throw downfield and that will be set up nicely by a strong running game. And his NFL experience will help recruiting.
SHARE YOUR THOUGHTS WITH GEORGIA FANS AT UGASPORTS.COM
3. JOE MOORHEAD, OREGON OFFENSIVE
COORDINATOR