If you are interested in cut abs, thin waist and toned obliques, please stop reading now, this post is not for you.
If you want super strong core which can support heavy ass squats and deadlifts, keep reading, I got some cool info for you.
If you want to squat heavy ass weights, pull massive deadlifts, participate in strongman competitions or be super strong in your chosen sport, you need a very strong core, this is a no brainer, right?
"Core" is not abs. Core is the whole thing between your rib cage and pelvis. Is it abs, obliques, lower back and all the small muscles around your trunk.
How can you have the strongest core possible? Well, you must train core as mother nature designed it – to support. To support – is the primary function of your core. That's right, it is not bending or crunching.
During heavy squats, your core must be straight, stable and rigid, if you are in a "crunched" position you have rounded lower back, caved in chest and you are fucked.
Human core was designed to support the rib cage and transfer power while heavy dragging, lifting things off the ground, supporting, jumping, moving heavy objects, etc. Exact same movement patterns, you will find in strength sports.
So, crunches and sit-ups are a waste of time, you need exercises which train the supporting primary movement pattern.
Here is my Go To list, yours may vary:
No.5 – Dynamic Side Plank
Lay on the mat on your left side, feet together, supported on your left elbow. Now raise your hips until whole body is in perfect straight line. Keep top position for 2 seconds. Do 5 sets of 10 or more. Your obliques and all the small muscles around your trunk and pelvis should be worked nicely. You need these muscles badly for support of trunk.
No.4 – Med Ball Russian Twists
Go to Youtube and find a vid where Derek Poundstone sits on his ass, feet and torso in the air and throws 20kg plates from left side to right side and and then back again. Your feet must be in the air all the time throughout the set. Do 5 sets of 10. Move the weights/med ball with your trunk muscles, not with your arms.
No.3 – Farmer's Walk
Pick heavy dumbbells and go for trips or time. Works your entire core in its primary function – supporting. As a bonus you will get massive traps and super strong grip. I said heavy dumbbells, so leave the 20kg dumbbells and go straight to 50's (110 lbs) dumbbells or heavier.
No.2 – Hypers
You must do hypers. Everybody. All year round. Period. If you don't, you're a pussy. Not the easy 45 degrees hypers. Check the Youtube vid of Klokov doing horizontal hypers and do them exactly like that. Weight behind your neck or a heavy plate held on your chest will squeeze all your upper back muscles which you need for proper trunk position. Don't believe the crap your trunk should only go to parallel to floor. You want to squeeze everything between your neck and knees in the top position, so you will end up with some torso hyperextension, which is fine. Primer movers here are glutes. Your glutes should be fried after 5 sets of 10 and your lower back should only be slightly tender because all it does is isometrics. If it is vice versa, your glutes are weak and/or not firing properly. Fix it.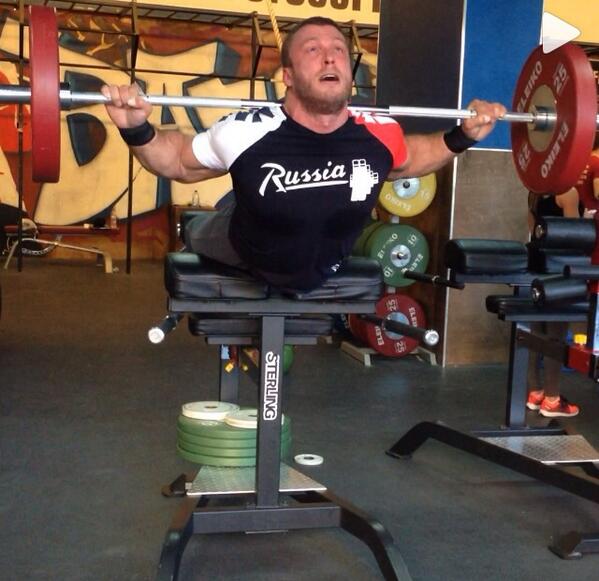 No.1 – …. and the winner is …. Ab Wheel
I have love/hate relation with this exercise. I do it religiously 1-2x a week and I still get sore abs every time. It is a real motherfucker. It hits your entire front side (both the deep layer and the front abs layer), all small trunk muscles and all the stabilizing muscles around your scapulae and lats. Go slow controlled motion, stop in the bottom position and using your trunk muscles, not arms or lats, curl your trunk back upwards. See why KK uses no belt pulling 400k (880 lb) ??? 🙂
Good luck. Get strong core, you will thank me later. And if someone tells you to hit abs once a week because you might overtrain, punch them in the face, you should train core heavy 3-5 times a week.
Sources:
runtastic.com
heardcountyrecreationdepartment.com
reddit.com
twitter.com
imgrum.org