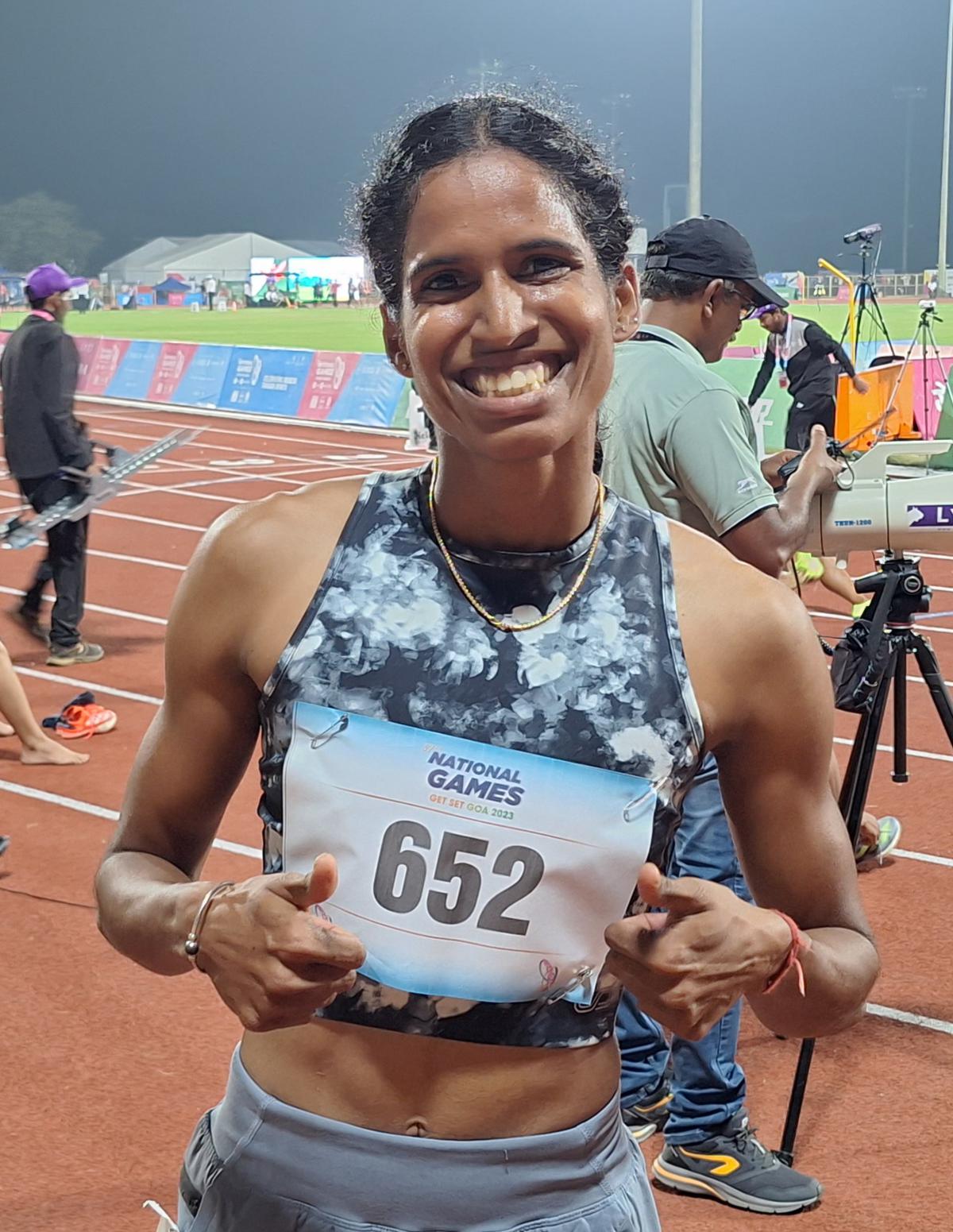 For a few minutes before the women's 400m final, Vithya Ramraj was wondering whether she should skip the big race. The long season had drained her, she was unwell too. But despite the discomfort the 25-year-old, who trains in Chennai, won the gold comfortably in the 37th National Games at the Bambolim Athletics Stadium and with a time that surprised her.
"I had fever, dysentery, and vomiting because the food was changing every day. I thought I shouldn't run but my coach said I should. In fact, I was the last to come to the call room," Vithya, the Asian Games 4x400m relay silver medallist, told The Hindu after her victory which came in 52.85s.
"I didn't think I would run this sort of time, I thought it would be something like 54s."
Vithya left the rest behind midway through the home stretch and won by a good margin with D. Jyothikasri (53.48) and Jisna Mathew (54.40) taking silver and bronze.
There were no surprises as Asian champion Jyothi Yarraji, one of the big stars here, and Tejas Shirse — both coached by James Hillier at the Reliance Foundation — won the women's and men's sprint hurdles without raising a sweat and in the process breaking the Games record too.
It was one of those rare days when Jyothi did not go under 13 seconds but it pulled silver medallist Nithya Ramraj to a personal best time (13.36s).
"This season is over and I just wanted to see what I could do with a free, relaxed mind. Of course, I'm not satisfied with my time, I want to get better and better. I want to be hungrier and try to get faster times since we have the Olympics next year," said Jyothi.
Meanwhile, Muhammed Anees found his form in his season's last long jump. The 27-year-old who had been struggling to touch 8m this year produced an impressive 8.15m effort in his final jump to take the gold. It equalled his personal best which came in May last year.
In swimming, Kushagra Rawat (men's 1500m freestyle), Bhavya Sachdeva (women's 800m freestyle) and Harshitha Jayaram (women's 200m breaststroke) broke meet records. The men's and women's 4x100m medley relays also produced meet records.
The results (winners only):
Athletics: Men: 400m: K. Avinash (TN) 46.88s; 1500m: Ritesh Ohre (MP) 3:40.93s; 110m hurdles: Tejas Shirse (Mah) 13.71s (MR, Old: Siddhanth Thingalaya's 13.83, 2015); long jump: Muhammed Anees (Ker) 8.15m; discus: Gagandeep Singh (Ser) 55.72m; 20km walk: Suraj Panwar (Utr) 1:27.43s.
Women: 400m: Vithya Ramraj (TN) 52.85s; 1500m: Lili Das (WB) 4:15.70s; 100m hurdles: Jyothi Yarraji (AP) 13.22s (MR, Old: 13.30, 2022); shot put: Abha Khatua (Mah) 17.09m; 20km walk: Priyanka Goswami (UP) 1:36.35s (MR, Old: Munita Prajapati's 1:38.20, 2022).
Swimming:Men: 1500mfreestyle: Kushagra Rawat (Del) 15:38.73s (MR, Old: Advait Page, 15:54.79, 2022); 200m breaststroke: S. Dhanush (TN) 2:18.96s; 4x100m medley relay: Services 3:46.81s (MR, Old: MP, 3:48.56s, 2015).
Women: 800m freestyle: Bhavya Sachdeva (Del) 9:08.60s (MR, Old: own, 9:15.24); 200m breaststroke:Harshitha Jayaram (Ker) 2:40.62s (MR, Old: S. Lakshya, 2:42.63s, 2022); 4x100m medley relay: Karnataka 4:25.82s (MR, Old: own 4:27.78s, 2022).