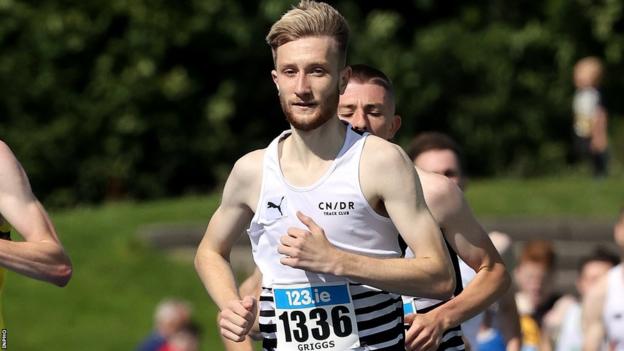 Nick Griggs looks certain to aim for under-20 gold at the European Cross Country Championships next month despite collapsing in the mud at the Irish nationals in Kilkenny on Sunday.
In brutal conditions, Griggs was 100 metres clear with 500 metres to go before "my legs just completely went".
As he was unable to get up, Griggs had to be taken to the medical tent where he recovered quickly.
"Hopefully I'll be OK for the European Cross," the Tyrone runner said.
After finishing second in the under-20 race at the last year's Europeans where a late stumble cost him gold, it's seems inconceivable the 18-year-old will not be in Ireland's team for the Brussels championships when it is announced on Tuesday despite Sunday's mishap at Gowan Demesne.
Griggs went into the Kilkenny race after a superb summer on the track which included setting four Irish under-20 records, highlighted by 1500m and mile performances of three minutes 36.09 seconds and 3:55.73secs, as he earned his first senior international vest at the World Championships in Budapest.
Griggs able to train on Monday morning
With sections of the course a complete mud bath, Griggs had worked hard to forge his big lead on the final lap after Ennis' Niall Murphy and Wicklow's Jonas Stafford had led for much of the race.
As Griggs collapsed into the muck, Murphy and Stafford sped past him with the former taking a one-second victory at the finish as he crossed the line in 17 minutes 12 seconds.
Griggs' coach Mark Kirk was able to report that his athlete had undertaken his normal morning run on Monday, having seemingly physically recovered from Sunday's experience.
"I was getting phone calls saying that Nick had fallen and I was worried that he had maybe damaged his ankle but it was a case that his legs had gone, which was a better case scenario, while not ideal obviously," Kirk told BBC Sport Northern Ireland.
Griggs will hope conditions are firmer in Brussels on 10 December, although coach Kirk has heard suggestions that the course in the Belgian capital "can be soft enough as well".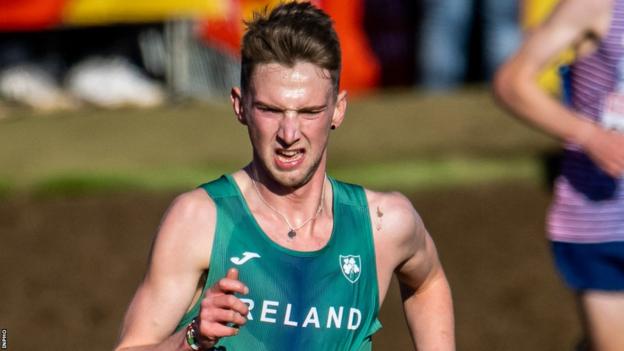 The junior men's event provided the most dramatic finish of the but some tremendous action still followed in the senior races as Mullingar's Cormac Dalton and Bandon's Fiona Everard took the titles.
With the course churning up ever more as the day went on, Dalton clinched the men's title in 31:08 with him finishing two seconds ahead of Ennis' Kevin Mulcaire as Ballina's Hugh Armstrong completed the podium positions a further four seconds back.
With Keelan Kilrehill in fourth, Irish 5,000m record holder Brian Fay had to settle for fifth with other track stars Efrem Gidey and defending champion Darragh McElhinney not enjoying the muckfest as they were seventh and ninth.
North Belfast pipped for men's team gold
The battle for men's team honours saw the well-drilled North Belfast squad edged out for gold by hosts Kilkenny City Harriers.
Both teams finished on 72 points but Peter Lynch's best individual finish of eighth, with North's leading man Andrew Milligan 10th, meant the Kilkenny club took the title.
Club-mate Finn McNally was three seconds behind Milligan in 11th spot while North Belfast's other scorers were 21st and 30th-placed Matthew Lavery and Conal McCambridge.
North Belfast did earn the considerable consolation prize of securing qualification for next February's European Champion Clubs Cup Cross Country in the Algarve, which they hope sponsorship will enable them to accept.
Annadale's Neil Johnston (13th), City of Derry's Conor Bradley (14th) and Griggs' Candour Track Club training partner Callum Morgan (18th) all finished in the top 20 in the senior men's race with Johnston's club-mate Eskander Turki in 23rd spot.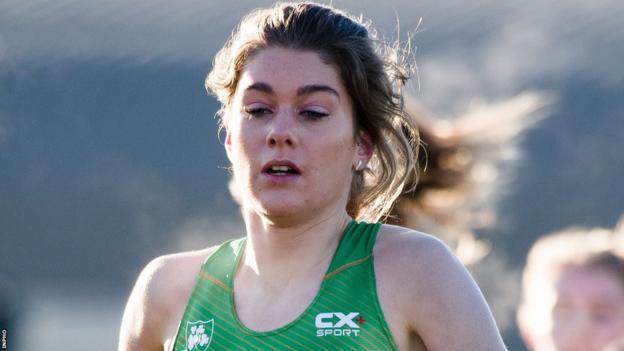 Cork's Everard secured a dominant 37-second victory over Portlaoise's Mary Mulhare in the senior women's race as Tullamore's Danielle Donegan held off Armagh's Fionnuala Ross for the final podium position.
Letterkenny's Nakita Burke (11th) and Annadale's Robyn McKee (18th) both finished in the top 20.
East Down's Anna Gardiner won the women's under-20 title as she finished seven seconds ahead of Finn Valley's Amy Greene, with Willowfield's Lucy Foster (seventh) and North Belfast's Roise Roberts (ninth) also inside the top 10.
Amid Griggs' troubles in the mud, City of Derry's Seamus Robinson was the leading northerner in the men's under-20 race as he finished fourth.
Lughaidh Mallon's eighth spot helped Lagan Valley secure the team honours as Stephen Lyster (30th), Jack McCausland (34th) and Charlie Jones (36th) were their other scorers.