When Eliud Kipchoge celebrated his fifth win in the Berlin Marathon last year, there was an air of invincibility about him. A two-time Olympic champion, he had just set a new world record of 2:01:09. He had broken the mythical two-hour barrier in 2019 when he clocked 1:59:40, but that was achieved with the aid of pacemakers in a project backed by British billionaire Jim Ratcliffe's Ineos in Vienna and consequently not recognised by World Athletics. 
After his Berlin effort, however, Kipchoge seemed ever closer to running a sub-two marathon in competition. Marathon fans waited with bated breath, certain in their conviction that Kipchoge would eventually do it — they were also reasonably sure that until the great Kenyan decided to hang up his boots, anyone pursuing him would be chasing a ghost. 
Breaking through in style
But a year later, a much younger rival from Kenya has taken the long-distance world by storm and threatened Kipchoge's supremacy. Kelvin Kiptum shattered Kipchoge's old mark by 34 seconds in winning the Chicago Marathon earlier this month, finishing in a world record 2:00:35.
It was Kiptum's third victory in as many starts over the 26.2-mile distance. He won on his debut last December at Valencia and then in the London Marathon in April. Both were record-breaking runs. The win in Valencia (2:01:53) was the fastest-ever debut marathon while the victory in London (2:01:25) was a course record.
Despite only having made his marathon debut 10 months ago, the 23-year-old Kiptum now owns three of the six fastest times in history. Only Kipchoge (with 2:01:09 and 2:01:39) and Kenenisa Bekele (with 2:01:41) have ever gone faster than the slowest of Kiptum's times.
"I knew I was coming for a course record, but a world record — I am so happy," Kiptum said after conquering the streets of the Windy City. "A world record was not on my mind, but I knew one day I would be a world record-holder. It was my dream one day to have the world marathon world record. I had planned for it in Chicago next year or even 2025… Chicago is a flat course, I thought I'd go and try Chicago. Fortunately, it just came and it's a dream come true."
It marked the third time a men's world record had been set on the streets of Chicago but the first time since Morocco's Khalid Khannouchi in 1999. Kiptum was waving and blowing kisses at spectators before raising his arms in triumph at the finish line. Incredibly, Kiptum had almost pulled out of Chicago because of ill health — his coach Gervais Hakizimana said Kiptum was weakened by a bout of tonsilitis two weeks before the event but recovered in time.
High-volume training
The young Kenyan's high-volume training stood him in good stead in Chicago. Hakizimana, who represented Rwanda at the 2008 and 2009 World Half Marathon Championships, told Daily Nation that the new world record holder runs between 250 and 280 km a week in his home village of Chepkorio, in Elgeyo Marakwet county. This training load can ramp up to 300 km a week over three consecutive weeks ahead of major events.
Kiptum's breakthrough comes at a time when athletics superpower Kenya is investing heavily in testing to combat a surge in doping cases with a total of 67 Kenyans banned in the last five years. Kiptum, Hakizimana said, was carefully monitored and tested every week, sometimes several times a day, during the lead-up to the Chicago Marathon. 
In his short career, Kiptum has earned a reputation for his ability to post negative splits — running the second half of a marathon faster than the first. His world record in Chicago started slower than Kipchoge's Berlin effort, but the ability to run faster than ever in the closing stages made the difference. A stunning turn of pace between kilometres 30 and 35 was the first of two sensational back-to-back 5km splits, which outstripped Kipchoge's equivalent 2022 splits.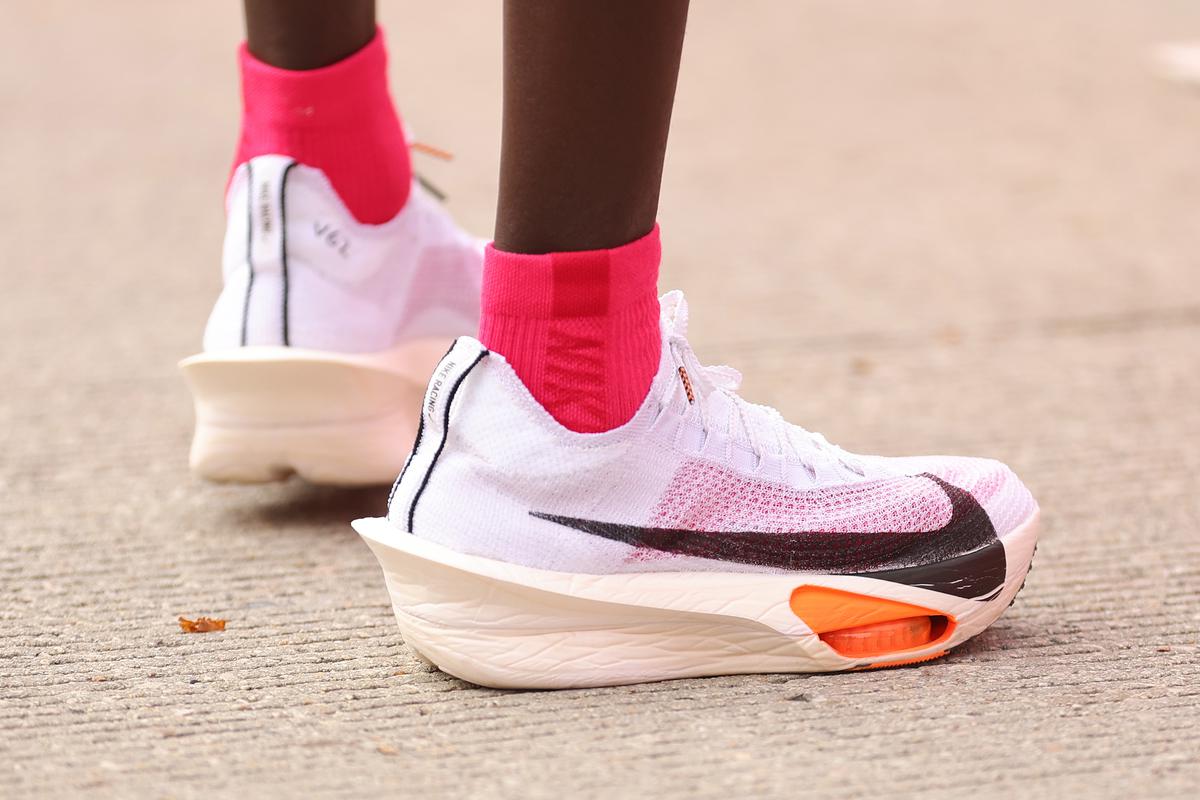 Kiptum, who grew up watching and admiring some of Kenya's great runners training near his house on his way to school, is not surprised that the marathon is seeing faster times. "There is definitely self-motivation and everybody trying to do their best," he told Olympics.com. "Having younger athletes running the marathon, I think that helps too. There's also the good training aspect and the technology of the shoe is coming up."
There is no doubt that the improvement in shoe technology has played a big role in the idea of a sub-two-hour marathon seeming realistic — not preposterous as it was until fairly recently. In Chicago, Kiptum wore cutting-edge carbon-plated trainers, which are designed to reduce the amount of energy lost by an athlete's movement. This means the runner expends slightly less energy with every stride. These shoes are commonplace among the elite, but it still requires exceptional athletes, like Kipchoge and Kiptum, to make the most of them.
Dreaming of Paris
Kiptum's plans for the future are ambitious, but interestingly he doesn't want to commit directly to an assault on the two-hour barrier. "I've got no plan to run under two hours but only to improve my own record," he said. "My next target is to take a break, meet my management team and come back strong for the 2024 season. I am dreaming of the Paris Olympics. If I get a chance to be selected by the selectors, I'll be thankful and I'll go there and try to win a medal."
Kiptum could cross swords with Kipchoge, 15 years Kiptum's senior at 38, in Paris, with the older Kenyan possibly gunning for his third gold after Rio in 2016 and the Covid-delayed 2020 Games in Tokyo. "I have not received a personal message from Eliud Kipchoge [after breaking the world record]," said Kiptum. "But if I am selected to compete in the Paris Olympics, I am ready to race with him. It will be exciting to meet Kipchoge, who has inspired many."
That duel, if it materialises, will be one for the ages. For Kiptum, who dreamt of emulating village mate and double New York marathon winner Geoffrey Kamworor when herding livestock as a little boy in Chepkorio, it will be an opportunity to write himself into athletics history — again.